Andelsbirøkterlag
Local Buzz Andelsbirøkterlag
Local Buzz is a Community Supported Beekeeping program in Oslo. It aims to increase citizen participation in urban beekeeping through low-threshold activities and demystify the life of bees and the profession of beekeeping.
Membership registrations are open for 2023! Read through to get a fuller understanding of this novel program, and sign yourself up - there are limited spaces!
What is Community Supported Beekeeping / Andelsbirøkterlag?
Head on to our blogpost to read all about Community Supported Beekeeping.
What does it mean to be a member?
Members sign up to Local Buzz through one of the two membership packages: hands-on membership & basic membership (see details below).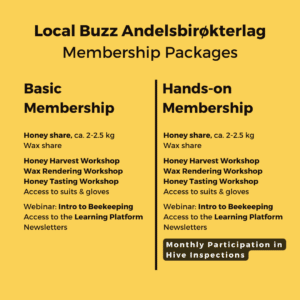 The membership fee is paid in advance to become a 1/10th shareholder of a beehive. We will keep 3 hives in total, so we will accept 30 memberships in 2023.
The hives are maintained and cared for by an experienced beekeeper, so the primary responsibility lies with the beekeeper. Local Buzz hands-on members are co-beekeepers, who attend hive inspections and learn about the practice through participation. At the end of the season, honey and wax is shared equally among all members.
Prices: Basic membership: 2300 kr & Hands-on membership: 3500 kr
2021 and 2022 members get a 10% discount!
Hive inspections
Hive inspections are carried out (almost) weekly during the season to ensure the wellbeing of our bees. We do not like to open the hives more than necessary therefore there are approximately 24 hive inspections in one season, and thus, a limited number of spots.
We meet on Tuesdays at 16:30 at Greenhouse Oslo, weather permitting (beekeeping is undesirable when it is rainy). We will coordinate for another day if this is the case. Our hives are at the rooftop of the building, and we have a room for storage within the building.
We inspect the hives in a group of 5-6. Hive inspections last around 60 min to 90 min in total depending on the task at hand. After our work with the bees, we sit down in a reflection circle and talk about what we did and why. This is the opportunity to link practice with theory.
Hands-on members have the opportunity to participate once a month in hive inspection. We have to limit the participation, otherwise hive inspections become too crowded for the participants to observe, ask questions, contribute, and in general get the most out of the experience. However, all hive inspection notes will be recorded in the beekeeping diary, which is a part of the Learning Platform, in order to bridge the gap between hive inspections.
Workshops
When the time comes, we harvest frames full of honey from our community hives and bring them inside the building for honey extraction. Quite the short-travelled, low footprint supply chain 🙂 We have a full set-up for honey extraction indoor.
The honey harvests will be held during weekends/weekday evenings, in groups of 4. This is an extremely unique activity, seeing the transfer of this golden liquid from frames into jars. It engages every sense, from the sweet smelling aroma to sticky hands! Not to mention the taste straight from a honey-laden frame! We try to harvest specific to each queen: Queen Annabelle, Queen Flora and Queen Angie will be our resident queens in 2023. At the end, you will have various honey from various harvests, each one distinctive of the season and the colony who produced it.
The wax never goes to waste. Norwegian wax is very precious! We render our wax together in a workshop and share it equally among members. Then members can come together to make beeswax salves or other products!
Last but not the least, we organise a season closing event with a honey tasting activity — try to use our senses to describe the characteristics of each product! This is your first step to becoming a «honey connoisseur».
What to expect?
This program is English. You can expect a diverse like-minded community from very different backgrounds who share a similar interest as you! Getting to know the bees 🙂 There are 30 seats.
A LOT of learning moments. Once we open the hive, countless inspiring and fascinating moments of learning will emerge. However, this isn't a formal educational program, but rather an apprenticeship, so what we learn depends on what happens at the hives at that moment! Your personal engagement is key to your learning! The more involved you are, the more you learn.
Very clean, very local, unprocessed and hard-earned raw honey + precious Norwegian wax + numerous bee facts up your sleeve
Hot summer afternoons in the beekeeping suit
Heavy box lifting, good for muscles; but many hands make light work!
Fresh liquid honey right from the hive
The simple delight of seeing the bees at work
The pure happiness of connecting with a superorganism and getting to understand a little bit of their world
The novelty of participating a CSB/Andelsbirøkterlag, which is a rarity in Norway as well as Europe!
What does the season look like?
A calendar and a detailed agenda for each activity will be shared with members.
Welcome meeting: 07. March, 18:00-19:00 @Gartneriet – get to know each other, get to know the program better, introduce the Learning Platform
Webinar: 21. March, 18:00-20:00 @Zoom
Hive inspections: From mid-April til September & Varroa treatment in November
Honey harvests: From July to September
Wax rendering: October
End of year celebration & honey tasting: End of September or beginning of October
Newsletter 'the Local Buzzer': first Tuesday of the month between April-November
Dato

7. mars 2023

til 25. november 2023

Sted

Greenhouse Oslo

Kontaktperson

Idil Akdos

Faglig leder

Idil er utdannet agroøkolog fra NMBU, grunnlegger av Local Buzz andelsbirøkterlag og har tidligere jobbet med urbant landbruk og sosialt entreprenørskap i Oslo Living Lab og Nabolagshager. Som faglig leder har hun ansvar for Birøkterskolen og andre kurs, birøkt og honningproduksjon, formidling og undervisning.